2015 FOUNDATION QUARTER HORSE REGISTRY SCHOLARSHIP APPLICATION
QUALIFICATIONS TO APPLY FOR FQHR SCHOLARSHIP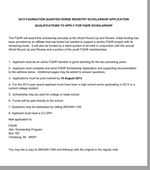 Click Here For Scholarship Form The FQHR will award this scholarship annually at the World Round Up and Review. Initial funding has been provided by an affiliate that has folded but wanted to support a worthy FQHR project with its remaining funds. It will also be funded by a silent auction to held in conjunction with the annual World Round Up and Review and a portion of the youth FQHR memberships.
1. Applicant must be an active FQHR member in good standing for the two preceding years.
2. Applicant must complete and send FQHR Scholarship Application and supporting documentation to the address below. Additional pages may be added to answer questions.
3. Applications must be post marked by 15 August 2015.
4. For the 2015 year award applicant must have been a high school senior graduating in 2015 or a current college student.
5. Scholarship may be used for college or trade school.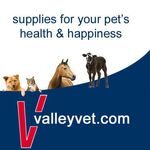 Thanks To Our Sponsors6. Funds will be paid directly to the school.
7. Questions may be addressed by calling 269-649-1106.
8. Applicant must have a 2.0 GPA
Mail application to:
FQHR
Attn: Scholarship Program
Box 165
Vicksburg, Mi 49097

You may fax a copy to 269-649-1560 and followup with the original in the regular mail.
With the help of these sponsors, the FQHR Silent Auction raised $1,113 for the 2014 Scholarships.
Valley Vet
Cowboy Magic
Rods Western Store
Larry Heyboer
Stoney Creek Performance Horses
Peggy Sich
Setting D Ranch
Chicks Saddlery
Hatfield Paint and Quarter Horses
Sara Johnson
Karen Coyle
Pam Averill