The Story Of Lenas Trey Tivitos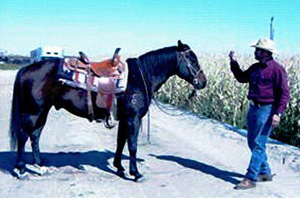 Dan & WaylonIn September 2004, I met Dan Johnson on the rail of the arena at the FQHR Round-Up in Grand Island, Nebraska. I couldn't show that year because Bob was the judge so I had taken Fence Me, a buckskin colt by Me Bad Max and out of Feather On A Fence by Canta Peppy to mess with and try to sell. Dan and I became immediate friends. I was trying to talk him into buying Fence and he was trying to sell me a 4 year old stallion he had at home. He showed me a very unimpressive picture of his horse standing in front of a round bale. I think we both decided there was a future in our friendship but not in horse sales. I brought my colt home and within a year he was with Marissa Closs and the rest of that story can stand on its own merit.
About a month later I hauled a draft horse to a carriage company East of Denver for Diann Vipond. On the way back across Nebraska, I mentioned that I wished I had gotten a picture of the pipe sled they had used in the Handy Ranch Horse class at the Round-Up. Diann's response was to call Dan and ask if we could stop at the feedlot so I could get the picture I wanted. We met Dan and Chris for dinner in Grand Island and for breakfast the next morning in Fullerton before going to the feedlot. The sled was sitting right next to the barn so I thought this was going to be easy and quick…….wrong. We were shown all the horses and the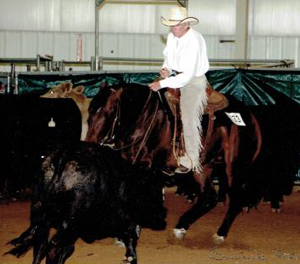 Susie & Waylonentire feedlot. We talked for hours. Anyone who knows me or Dan can understand; we both talked way too much. Early in the mega tour, Dan pulled out the stallion he had tried to sell me at the Round-up. I was not impressed. He saddled him, rode him and then told me to ride him. I wasn't eager to ride him because I was wearing tennis shoes and really had no desire to ride the horse. I quickly learned you do not argue with Dan so I rode the horse but I still wasn't impressed. Several hours later as we were finally ready to leave, Dan looked over at his wife Chris, nodded his head, dropped the ramp on my trailer and loaded his horse. I protested! He said he wanted him finished so he could win the Versatility class the next year at the Round-Up. I said; "you want me to take your horse and you don't even know where I live". His response was that Michigan wasn't that big and he could find me if needed. We left with the horse: barn name only, no papers, no bill of sale, no coggins, no health certificate, no brand inspector release, just a 4 year old stallion who had untied himself less than four miles out and was riding backwards waving goodbye to Nebraska. My plans for getting home were shot and we made it as far as the Super 8 in Walnut Iowa. I made sure he was comfortable for the night and we finished the trip the next day. I was so rattled tucking him in that I realized the bale of hay I was trying to open with my knife was baled with wire, not twine. Waylon looked at me like I was nuts! I knew Bob would be angry that I brought a horse home so I made Diann promise to stay until I could break the news to him. It took me almost 2 hours to finally tell him what I had done. It didn't go well and Bob didn't speak to me for 2 weeks until Barry Walters approved and Bob finally settled down.
The fall was interesting. There was one FQHR show left at Riga. Waylon embarrassed me in the Handy Ranch Horse class but a friend told me the run "made his nipples hard". Wonderful! The shows were over for the year so time to get to work. Dan would call every week to see how his horse was doing. I was full of questions about how he was introduced to different things, what ques Dan had used, what his reaction had been to new things, etc. We would talk for a couple hours; me, then Bob, then me again and maybe Bob again. In November, Diann and I made another trip to Colorado to repo the draft horse we had delivered in October, (another story). My shock had worn off and I decided I needed a little bit of authority with AQHA so I got the form and had it with me when we met Chris and Dan for dinner in Grand Island. I explained I just wanted to be able to sign papers if needed be and didn't trust the postal service. They checked the boxes they wanted to check and signed the form. We stashed the repo horse at the feedlot overnight and were able to see Chris the next morning when we picked up him up to finish the trip home. Dan was already riding pens so we didn't get to say thank you and goodbye.
The second Monday in January Dan called. We talked as usual. On Wednesday Chris called. I could barely understand her but the bottom line was that Dan was dead and they were calling it suicide. I wasn't buying that because Dan had been his happy, funny self on Monday night. It was a murder but nothing was ever done about it. The new problem was that I had a horse that by then I had fallen in love with and really didn't want to give up. Chris needed time so over the course of the next year, we became partners and the year after that I bought her share of Lenas Trey Tivitos, barn name Waylon.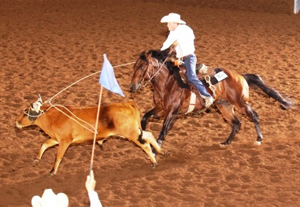 Kellen and WaylonWe took him back to the Round-Up in September 2005 in Grand Island but he was a total embarrassment. Over the summer he had become very insecure, loud and obnoxious; not rank, just loud and inattentive. Chris, their kids and Dan's brother all came to see him and I was not happy. Fortunately it was just a phase he had to get through. The only roping class Michigan offered was breakaway and I asked Kellen Youngedyke if he would rope on him. He agreed and the pair won every class except for Johannesburg in show July. The FQHR Round-Up was in Oklahoma City in 2006 and my only goal was for Waylon to behave so people would like him. By September he was through his "phase" and earned Reserve Open High Point. We came home with a saddle and a buckle. My only regret was that Dan couldn't share in it. In 2014, he and Brandon Smith won the Open Cow Horse Division at the FQHR Round-Up. Waylon loves to rope so he and Brandon have been roping several classes at the Round-Up for the last 3 years.
Bob & Red Bad AntOur long-range breeding program started with Red Bad Ant. His sire was Poco Red Ant by Poco Bueno and his dam was Holly Badger by Grey Badger III and out of Miss Holly by Hollywood Gold. His get dominated the reining classes especially at the AQHA shows in Michigan in the '80's and 90's.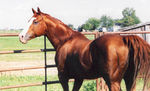 Canta PeppySeveral years later Canta Peppy (100% foundation) came to stay with us. He was sired by Mr San Peppy and out of Verruga by Hired Hands Cardinal. Foundation bloodlines had always been paramount in the breeding program but with the addition of Canta, the colors started going from seal brown to bright King Ranch sorrel. We had always gelded all of the colts but when we weaned in 1987, one colt kept causing us to do double-takes every time we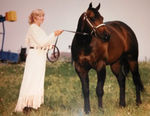 Susie & Me Bad Maxpassed his stall. It was Me Bad Max who was sired by Red Bad Ant and out of Joan's Finale. Max and Canta Forget My Face were both entered in the Michigan Quarter Horse Breeder's Futurity. We gelded Face but left Max intact with the agreement that he was merely on probation and would have to earn his jewels. For four years the two boys competed in the futurity and in their graduating year of the futurity as 3 year olds, Canta Forget My Face won the Versatility and was 5th in High Money. Max was 3rd in the Versatility and 4th in High Money. He went on to be one of the first ten horses to earn an AQHA Open Superior All-Around with 52 individual All-Arounds to his credit. We had bred Bad Ant daughters to Canta Peppy and did not use Max for breeding to the Canta daughters until Bad Ant died. Waylon's middle name became "Outcross" as the final stallion in the breeding program.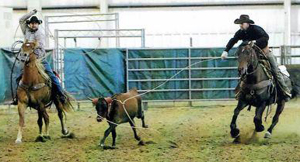 Wade, Brandon & WaylonKellen Youngedyke, Trevor Walton, Brandon Smith, Bob and I have all had a hand in Waylon's success in the show arena. His pedigree is filled with greats in the quarter horse world. His sire, Tivitos Texas Star died before he really had a chance to make a name for himself but his pedigree is peppered greats such as Doc Quixote, Colonel Freckles, Doc Olena, Doc Bar, Poco Tivio, Rey Jay and Sugar Bars. His dam's side includes Smokin Jose, Mr. Gunsmoke, Doc Quixote, Doc Olena, King and Jose Uno. We would try and master one class after another. He is bred for cattle work but he would do anything asked of him. He has AQHA cutting points, was in the Top Ten for our region in NRCHA in 2008 and 2010, and has FQHR Certificates in Conformation, Western Riding, Reining, Ranch Pleasure, Working Cow Horse, Ranch Cutting and Handy Ranch Horse. He also has points in Working Ranch Horse, Ranch Roping, Ranch Doctoring, Cutting, Breakaway Roping, Heading, Heeling, Two Man Feedlot, and Team Sorting. Waylon is close to a championship in the Ranch Division.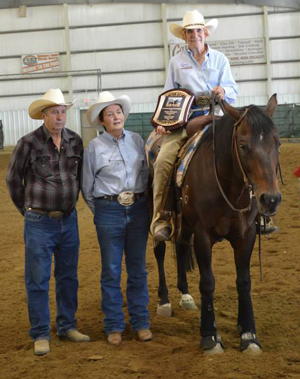 "Waylon" Supreme ChampionLenas Trey Tivitos was the first horse inducted into the FQHR-MI Hall of Fame, Supreme Performance Champion #2 (over 300 performance points), the first horse to be awarded Superior Champion (over 100 points in Handy Ranch Horse), Companion Horse, Performance Champion, Show division Champion and nearing a championship in the Ranch Division. He is also the sire of 3 of the 7 winners of the FQHR-Mi Breeder's Classic Futurity. Many of his get are also making their mark in various show arenas.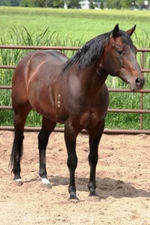 Lenas Trey Tivitos (Waylon)Bob and Susie both had horses since they were children. Four of their five children showed horses in AQHA shows. Bob serves on the FQHR Judges Committee. Susie served on the Michigan Quarter Horse Board for 23 years, Vice- President one year and President 3 years. She served on three AQHA committees: Youth, Membership and Marketing. She was NRHA Historian for 7 years and helped form and was President of Central Michigan Cutting Horse Association. She was one of the founders of and still serves on the FQHR Round-Up Committee. Two of their five children are still involved in horses. Wendy Walton Wixson has been Michigan FQHR show secretary and is currently managing the FQHR-Mi SSS. Trevor is a teacher, trainer, President of the Michigan Reining Horse Association and holds several judges cards including FQHR. He, his wife Erica and son Jarid show successfully in both FQHR and NRHA competitions. Jarid also won the Youth division of the FQHR Round-up in 2014.
Lenas Trey Tivitos resides and stands at stud at Susie Walton Quarter Horses, Rosebush Michigan.