Come To Texas and the C Bar L Ranch for Your Next FQHR Champion
Liz Truax has worked with horses since she was in Junior High. Liz has an expansive show record in breed associations (ApHC, AQHA, and FQHR), and also Stock Horse of Texas and NRCHA
Liz and husband Curtis started the C Bar L Ranch in 1994.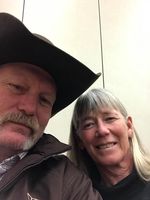 Liz & Curtis TruaxThey began breeding with their first stallion, Pines Alliance, a son of Zippo Bar Pine (who goes back to Three Bars, Leo, and Poco Bueno) out of Randados Rosa by Cal Bar. Pine's dam line includes the blood of Doc Bar, Poco Tivio, and Gay Bar King.
Starting with a small band of broodmares, they raised a few babies sired by Pine. Liz and Curtis have always been driven to create high-quality crosses that produce good minds, conformation, and the ability to excel in many different directions.
Today, Curtis and Liz have earned a reputation as superior breeders, producing anywhere from 10-30 babies, many of which are sold before they even hit the ground!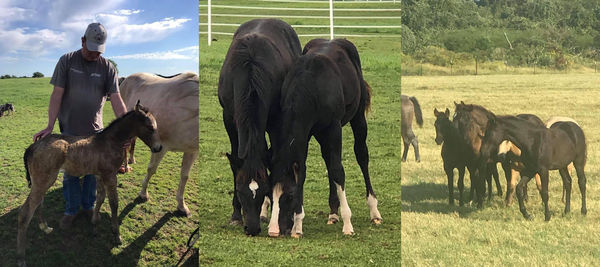 Besides keeping a few horses in training, Liz maintains a full schedule of lessons and clinics for novice, amateur, and non-pro riders and competitors. Liz is a carded judge for ASHA, FQHR, and ARHA and somehow manages to find a little time to trail ride and compete at a few shows herself.
Nightime Shiner, the 2019 FQHR World Champion in Reining, Ranch Riding, and Ranch Pleasure, stands to a public book of carefully selected mares at the C Bar L Ranch.
Everyone Should Have a "Chevy" In Their Barn!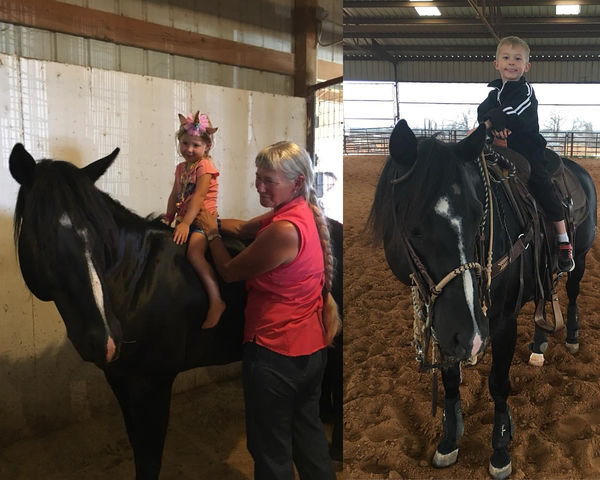 Every head turns when the stocky black stallion walks by.
Generally, he's ridden by the pretty cowgirl with the long blonde ponytail (unless the grandkids are in town), and he's usually followed closely by Sugar, the blue heeler.
Handsome is an understatement when you get a look at "Chevy." "Awesome!" is more like it.
This incredible stallion is as kind, sweet, and easy-going as he is shiny. At shows, he begs people to pet him (if they can get past Sugar and her ball).
Liz Truax first met Nightime Shiner (aka "Chevy") when the black colt was just nine days old. Nightime Shiner is a 2011 stallion by Night Deposit Chex out of Shining Magic Spark by Shining Spark.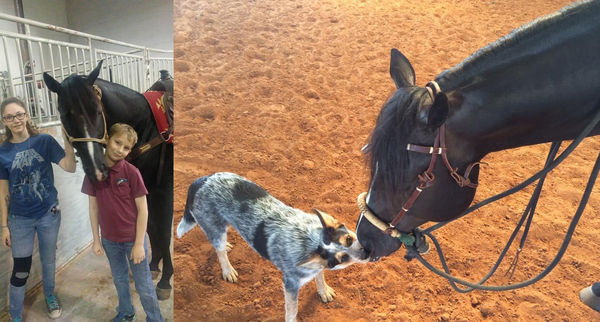 It was love at first sight! But at that time, Liz could only dream of having him in her barn one day. That day came much sooner than expected when in 2012, the opportunity to purchase the black stud came up. Liz and Curtis didn't hesitate, and Chevy came home to the C Bar L Ranch!
Trained exclusively by Liz, the duo let the VRH world know they had arrived when, in 2014, Chevy finished his first Stock Horse of Texas World Show in 6th place - Open All-Around Junior Horse. He was just 3 years old.
The next year, in 2015, Chevy and Liz took on AQHA. They were Reserve High-Point Junior Ranch Riding and 5th High-Point overall for Ranch Riding (Level 2 Open).
2018 saw top 5 finishes at the AQHA World Show in virtually every VRH Cowboy Division class, along with a Reserve World Championship in Ranch Riding and 3rd place VRH Overall Cowboy.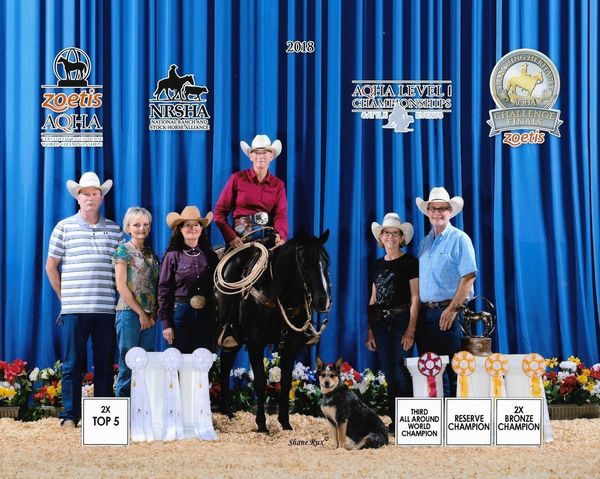 2019 was a busy and fruitful year for Liz and her shiny Chevy! Nightime Shiner bested the field in 3 of his FQHR World Roundup & Review classes, bringing home championships in Open Ranch Pleasure, Open Ranch Riding, and Open Reining. Chevy was also the Reserve Champion in Open Versatility (along with a 2nd in Ranch Conformation and 4th in Herd Work.)
2019 also took Chevy and Liz to the multiple top 10 and top 5 finishes at SHOT, ARHA, and AQHA World. Nightime Shiner was named AQHA Champion in VRH Cowboy Division Ranch Trail.
Chevy has earned over $2000 and has his AQHA Open Performance ROM. He's earned points in Ranch Riding, VRH Cowboy Conformation, Working Cow Horse, VRH Trail, VRH Cowboy Reining, and VRH Conformation.
Wouldn't you like to ride a "Chevy"? I know I would! Contact Liz on Facebook or at (940) 872-0497 for breeding information.
She also has an excellent selection of weanlings, yearlings, and 2-year olds by this beautiful stallion!
Liz and Curtis always have high-quality, eye-catching young horses for sale, whether you're in the market for color, solid, or something in between. Make your appointment to come shopping at www.facebook.com/liz.truax.1 or www.facebook.com/CBarLRanch.