Become a Cash Sponsor and get Entered to Win Free FQHR Breeding
WHO: 2018 FQHR World Round-Up
WHAT: Prize Drawing: One free breeding** to the stallion of your choice (click on names or photo for pedigree):
WHERE: FQHR World Round-Up, Lincoln, NE
WHY: Special Opportunity for 2018 WRU CA$H Sponsors****
WHEN: During FQHR WRU Affiliate Parade/Sponsor recognitions, Saturday, September 8, 2018
Look At These Amazing FQHR Stallions The Winner Can Choose From
FQHR Stallion – Chisums JonnyBobtail (Oklahoma)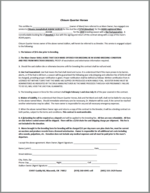 Click For Contract Info
FQHR Stallion – HQV Bill Cody (Wisconsin)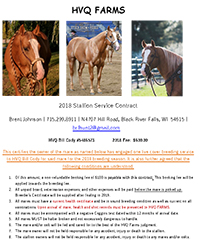 Click For Contract Info
FQHR Stallion – Wild Playin Hickory (Oklahoma)
Achievments: Multiple FQHR point earner. AQHA pt earner and money earner. NCHA money earner.
Has sired multiple AQHA ROM pt earners as well as FQHR, AQHA, NCHA, ACHA point and money earners.
Stud Fee: $1,000
Mare Care: $5.50 per day (dry)
$7.50 per day (wet)
Negative Coggins required
Vet check clean palpatation required
SPECIAL Opportunity:

For All 2018 FQHR WRU CA$H Sponsors*

Each cash sponsor will receive one entry ticket for every $50 Cash sponsorship
There will be one drawing and one winner!
All eligible tickets will be placed in drawing bin in Lincoln, NE at the WRU
For example: Become a Show Horse sponsor ($200) and

you will have FOUR Chances to WIN!

The Person holding the Winning Ticket will select Stallion at time of drawing

2019 Breeding Season

Need not be present to win



Stallion
Owner Benefit Package:
Half page color ad in 2018 World Round-Up full color program
Your banner displayed in main arena all three days (sponsor provides)
Special 8 x 10 display at WRU check-in table about this special offer and your FQHR Stallion-all 3 days
Announcements all three days
Social Media Post – Logo/Name
Special Acknowledgement/Recognition during opening ceremonies on September 8
FQHR Website: Your logo or name and email address on WRU page*
FQHR Website: Active Link to your business (to January 2019)
FQHR: Membership for two – one year
Certificate of Appreciation
Investment: $ value equivalent of one breeding
*Cash sponsors only/in kind trades not eligible
*Corporate sponsors not eligible
*Cash sponsorships must be paid in full and received no later than 8:00 AM, Saturday, September 8, 2018 to be eligible for drawing. ****Some sponsorship opportunities are dictated and restricted by date, by a first come first serve basis, and with limited availability as applicable.
**Breeding contract applicable. Winner is responsible for any additional costs per breeding contract.
Required from Stallion Owner:
Copy of FQHR papers
Picture of Stallion
Mare care costs if applicable
Special conditions (culture, Coggins, vaccine record, live cover only, AI etc.)
Stallion accomplishments (if applicable)
Contact information: Email, phone number, Website address or social media (FB) link
Please Support Our 2018 World Round-Up Sponsors.
Many of the beautiful photos from last year's FQHR World Round-Up were provided by Smart Chex Photography. These and other images from the Round-Up are available for purchase on their website.